I know, I know...
I know You are there, my Lord...
Hear me speaking
This, I'm crying on this cotton field
Asking for Your kindness and mercy
Sit by me, my Master
Sit by me, hear me speaking...
This old lady begging Thee...
Aku mengandung, Tuhan...
Aku tak tahu bagaimana, dimana akan kulahirkan bayiku
Segenggam gandum di tangan yang kupunya
Untuk bekal hidupku hari ini
Jujur, aku khawatir tentang kehidupannya kelak ya Tuhan
Selama ini kupendam rintihanku
Tangisku yang kutampung di jiwaku
Aku terima keadaanku
Aku tak menyalahkanMu karna menetapkanku berkulit hitam
Bau keringat leluhurku tetap kebanggaanku
Aku tak meminta diberikan pedangMu
Untuk membalas laku majikanku
Aku mintakan kebaikanMu atasnya
Luka-luka di tubuhku adalah kebaikannya
This is my cry, o Lord...
This is my cry...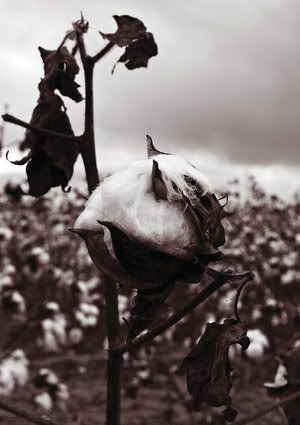 Build me a shelter on this field
Build my baby a fighter
A real fighter like his ancestor...
Let him conquer this life in You
Let him remember his mother is a slave
Let me be his proud
Sakitku tak tertahan lagi
Dengar rintihku kali ini...
Decisions I made are mine
For my tears dropped, I'm thankful for being a slave
One has breathe, I do
Slaves, masters, we do
Butakan mataku, Tuhan
Ambil biji-biji ini dan berikan untuk majikanku dan istrinya
Agar aku bisa melihat kebahagiaan anakku dengan hatiku
Sejatinya aku diciptakan roh dalam tubuh indera fana
Agar majikanku melihat dunia sejenak dengan mataku
Take my sight...
I will see my soul inside
I will dance, my soul
Anakku, aku akan melepas bajuku
Akan kututup malumu
Segalanya untukmu
Aku tak akan malu demi kamu
Karna aku tak akan lagi melihat orang
Tuntunlah ibu kelak, ibu akan bercerita banyak sepanjang perjalanan kita
Dan Tuhan, tetaplah tetap...
(Jakarta, 19 Oktober 2008)
Photo credit goes to DeviantArt
Labels: Heart Talk, Poetry